Job Details
Date Posted: September 30, 2022
Location: Garland, North Carolina
Company: George Hi Plantation
Salary: DOQ plus tips
Housing Offered: Maybe
Experience: 1-2 years
Company Contact
Website: Http://georgehicom
Email: [email protected]
Phone: (919) 820-6478
Garland, North Carolina
DOQ plus tips
This position has been filled
George Hi Plantation
Due to recent growth, George Hi Plantation has the opportunity to add 1-2 hunting guides for the 2022-2023 (and beyond) North Carolina Quail Hunting Season. We are an Orvis-endorsed wing shooting lodge, located in eastern NC approximately 90 minutes southeast of Raleigh, 60 minutes west of Wilmington. We operate 7 days a week, beginning mid-October through March 25.
The job requires individuals to be physically fit enough to walk through out the day with clients as they hunt our fields. Our days can range from 3-4 hours in the field to as much as 7-8 hours. Other responsibilities include greeting guests and going over safety precautions and hunting guidelines. Additional tasks may include assisting other guides and any other guiding duties assigned by the General Manager.
Qualifications for Guiding:
• We are looking for energetic, motivated personable individuals with great work ethic and a passion for quail hunting and bird dogs.
• We use both pointing and flushing dogs. We have kennel dogs for our guides to use, but if you have your own dogs, that is a plus.
• Candidates must have the ability to work varying shifts, including weekends.
• The preferred candidate needs experience handling pointing and flushing dogs and be familiar with shotguns and safety in the fields.
• Previous guiding experience preferred, but not required for the right individual.
We are a family oriented business that emphasizes loyalty and helping each other do what it take as to get the job done.
For more information about this position, feel free to contact or email Doyle Hardison.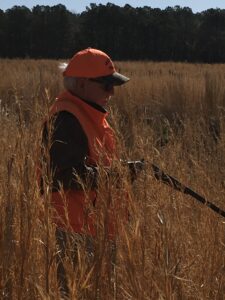 To apply, contact General Manager Doyle Hardison through email or phone – [email protected] or (919) 820-6478