Job Details
Date Posted: January 21, 2023
Location: Corolla, North Carolina
Company: Giant Slice Pizza
Salary: Based on experience
Housing Offered: Yes
Experience: No experience needed
Company Contact
Website: http://www.giantslicepizza.com
Email: [email protected]
Phone: (614) 306-8924
Corolla, North Carolina
Based on experience
Giant Slice Pizza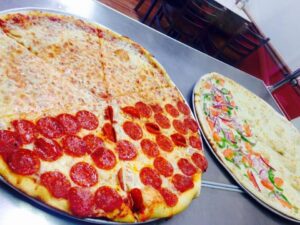 Giant Slice Pizza, on the Outer Banks in North Carolina, is looking for Team Members.
Team members at Giant Slice tend to do a little bit of everything. Ideally you would be trained to work on your own running the dining room, as well as work as part of a team in the kitchen. Duties include cleaning such as dishes/sweeping/mopping/dusting, taking orders in person as well as over the phone and putting them in to our POS system, running food/bussing tables, pressing/topping/cooking pizza, making subs/salads/fryer food, prep work including chopping veggies as well as making sauce and pre-cooking food as needed.
PLEASE BE AWARE THIS IS A SEASONAL POSITION, AS GIANT SLICE IS ONLY OPEN APRIL – SEPTEMBER EVERY YEAR
Visit our 
website
 to learn more about us!
We also have an opening for a General Manager. See the details here.
To apply: Please call/text/e-mail us any time!