Job Details
Date Posted: October 8, 2021
Location: , Emigrant, Montana
Company: B Bar Ranch
Job Type: Full Time or Seasonal
Housing Offered: Yes
Experience: 2-5 yrs
Company Contact
Website: https://www.bbar.com/
Email: [email protected]
Phone: (406) 848-7793 (fax)
B Bar Ranch
B Bar Ranch near Emigrant, Montana is looking for a ranch hand. The best applicants are hard working, self-motivated, flexible and team oriented. Ecology and stewardship are important parts of ranch philosophy and operation. Employees who best fit these jobs work with conservation in mind.
Our staff employs environmentally sound methods to accomplish each task. Candidates recognize that they are coming here foremost to work, and then for their own personal enjoyment. The hard work expected from our employees will be rewarded with living in a beautiful, historic location and spending free time in the surroundings.
We provide quality housing for our seasonal employees. The bunkhouse is at ranch headquarters. It is fully furnished, has shared bedrooms and bathrooms, a large living area, a full kitchen/dining area and laundry facilities. Employees are responsible for purchasing and preparing their own food. We offer a competitive salary and provide the opportunity to work and play in one of the most spectacular settings in the Northern Rockies.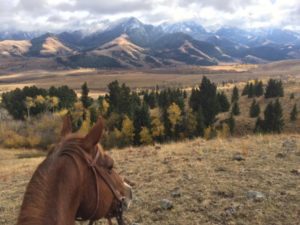 More about B Bar Ranch
B Bar Ranch is nestled among the 10,000-foot peaks of the Gallatin Range in the Tom Miner Basin, which sweeps from Yellowstone National Park's northern boundary to intersect with the fabled Paradise Valley. The ranch's nine thousand acres of open meadows, forested hillsides, riparian areas and mountainous wild lands provide excellent habitat for the region's renowned wildlife species, including grizzly and black bears, elk and moose, wolves and coyotes, and countless varieties of birdlife. The ranch is a place of spectacular beauty, and committed to protecting its unique and extraordinary landscape.
A working ranch since 1906, the B Bar today provides summer range for the ranch's herd of Ancient White Park Cattle, irrigates two large pastures, and puts up hay each year (once providing superior hay for Kentucky's race horses). We feature organic grass-fed grass-finished beef from our cattle for our guests and for sale along with maintaining an intensively-developed landscape at ranch headquarters.
Historically a working ranch, hunting lodge and retreat, today B Bar Ranch welcomes a wide range of guests including events for selected non-profit groups, workshops and retreats, weddings and reunions, as well as board, staff and patron meetings. The guest facilities accommodate up to 40 guests and include a rambling lodge with a dining room, large living room, and three suites, six cabins overlooking a pond and an additional four vacation rentals with spectacular views to mountains and the valley beyond.
From time to time every employee may be asked to perform jobs other than the job for which s/he was hired. This may happen to fill in for illness, or during particularly busy or slow times.
Getting here and getting around
Because of our relatively remote location, we encourage employees to have their own vehicles, but it is not necessary.
For fun
Outdoor recreational opportunities on the ranch and the surrounding wildlands of Greater Yellowstone include hiking, fly fishing in the world class Yellowstone River (at the turnoff to the ranch), and exploring Yellowstone National Park just 40 minutes away. If you enjoy the outdoors, the mountains, and the likelihood of seeing everything from grizzly bears to wolves to moose to elk herds that number in the hundreds all from your front door and backyard, B Bar should be on the top of your list when deciding where to work this summer.
How to apply
We also have openings for a landscaping assistant and for the Guest Services support staff. To apply, visit the employment page on our website.
You are also welcome to mail/fax/email your resume, including three professional references. Please specify your dates of availability and for which position you are applying.
Mailing Address

B Bar Ranch
818 Tom Miner Creek Road,
Emigrant, MT 59027