Job Details
Date Posted: November 13, 2023
Location: San Diego, California 92101
Company: Gaslamp Hostel
Salary: $18 per hour
Housing Offered: Yes
Experience: 1-2 years
Company Contact
San Diego, California 92101
$18 per hour
Gaslamp Hostel
Our awesome assistant manager has got the travel itch and is ready to explore new places. We're looking to hire and train in December, January latest.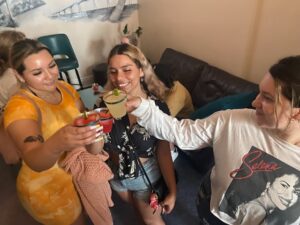 Our ideal candidate MUST have previous international backpacking experience, preferably working in at least one hostel; a desire to be a part of hostel life, and the ability to commit for an extended period.
We prefer candidates with some previous supervisory experience, excellent people and customer service skills, the ability to multi-task, solve problems and work effectively under pressure, and be very organized, honest and reliable. Computer skills and speaking multiple languages are a plus. Being able to handle cranky customers with grace is also a must.
Responsibilities include but are not limited to:
• Manage volunteer recruitment program, vetting and scheduling new volunteers and keeping list updated. Handle bed and food storage arrangements.
• Supervise, troubleshoot and discipline reception, housekeeping and maintenance staff as needed.
• Trouble shoot reception and reservations issues
• Process internet bookings/queries
• Review and process banking on manager's days off
• Function as duty-manager when manager is off-site
• Troubleshoot guest issues such as payments, money stuck in machines, questions, complaints, theft, etc.
• Handle online reservations and information requests in a timely, professional and friendly manner
• Provide high level of customer service to guests and staff
• Supervise, train and follow up with new reception staff. "Tweak" as necessary
• Deal with staff conflict and discharge if necessary.
• Handle premises walkthrough
• Run or supervise weekly hostel events – assess and change events as necessary
• Work front desk as needed
Please send your resume and a letter explaining why this is the perfect position for you to [email protected]. Please also note that in addition to the wage and housing, we also provide parking in a nearby garage, sick and vacation time and a 401K .