Job Details
Date Posted: June 16, 2022
Location: Rockport, Massachusetts
Job Type: Full Time
Housing Offered: Maybe
Experience: No experience needed
Company Contact
Website: https://www.theemersoninn.com
Email: [email protected]
Phone: (978) 430-2483
Apply Online Now
The Emerson Inn is Cape Ann's one-and-only historic grand hotel. Established in the 1920's, The Emerson Inn boasts 36 rooms renovated to bring a modern flavor to its nostalgic boutique atmosphere. Although the Emerson Inn retains the beauty of its jazz age, its rooms are outfitted with air-conditioning, private bathrooms, flat screen televisions and complimentary Wi-Fi.
In 2021, Kimberly realized her dream to own a hotel and purchased the property on the ocean with her husband Bart. Guests enjoy local art, music and seafood at The Emerson Inn's new parlor lounge featuring cocktails in its charming piano bar or on the oceanfront veranda. The Emerson Inn is the perfect place for a romantic getaway, to celebrate a birthday, anniversary or for solo travelers seeking respite at our salt-water pool along the ruggedly beautiful Cape Ann coastline.
Our staff is a friendly and fun group of folks — some return year after year, others join us seasonally from near and far and some people who want to work in a beautiful place…. that enjoys great food, early sunrises and beautiful moonrises out our windows.
The hotel is located just one hour north of Boston– on the rocky coast of the Atlantic in Rockport, MA. We are at the top of Cape Ann, sometimes referred to as the other Cape. Our boutique hotel has been welcoming guests since 1858 in a town known best for its quaint colorful fishing shacks, artists, and fresh seafood, our historic Inn maintains its place in history hosting writers, musicians, and artists from May till November.
We are looking for more happy Servers, Line Cooks, Housekeepers, Bar Tenders, and Front Desk staff for summer positions. Housing available just 1 mile from the inn and a 5-10 minute walk to the beach, to the main stores and attractions as well as the train to downtown Boston and nearby Salam. Starting immediately until September 15, with many roles available through November. Rate of pay depends on position and experience.
Don't hesitate — we know you will love it here!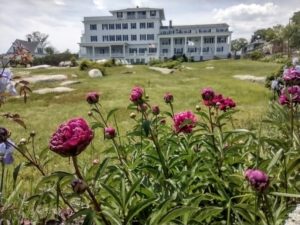 If you are interested -- email [email protected]! It's that simple! Or you can call 978 546-6321.