Job Details
Date Posted: February 23, 2022
Location: Waukesha, Wisconsin
Job Type: Full Time
Salary: Variable: $10-$15/hour
Housing Offered: No
Experience: No experience needed
Company Contact
Website: http://www.treetopexplorer.com
Email: [email protected]
Phone: (262) 894-4949
Apply Online Now
Waukesha, Wisconsin
Variable: $10-$15/hour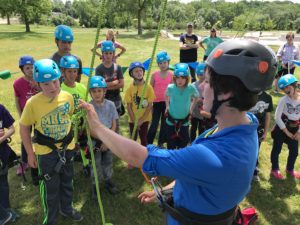 Tree Climbing Facilitators enable inexperienced climbers enjoy the thrill and reward of climbing into mature trees using rope and saddle. Our climbing experience provides participants with a boost in confidence and a deeper connection to nature and themselves.
The facilitator inspects and prepares the tree and climbers for recreational tree climbing, and introduce climbers to the climbing method. During the climb, facilitators provide each climber with encouragement, guidance and support to help them take on a wide variety of physical and personal challenges encountered during their time off the ground.
Facilitators begin with our training program, learning how to tall trees using rope and  harness using specialized equipment and techniques as well as facilitation skills in how to communicate, support, and encourage participants. While the facilitator's primary responsibility is to tend to the technical and safety aspects of the tree climbing event and work with participants during their climb, you are able to continue working on improving your on climbing skills on the clock.
The majority of our climbs take place in the greater Waukesha County area. We also have regular opportunities in the Fox Valley and Dane County areas. Work schedule is flexible; you sign up to work climbs according to your availability.
All facilitators work alongside the owner, a fully credentialed and GOTC recognized tree climbing instructor & facilitator. If interested, your work experience can count towards obtaining the GOTC recreational tree climbing facilitator credential, which includes aerial rescue proficiency.
Apply online or call Curt @ 262-894-4949 to schedule interview (phone, Zoom, in-person).