Filled / Expired
---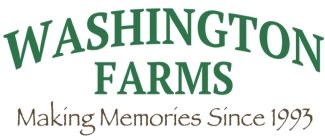 Washington Farms currently has a very experienced and tremendous farm manager. We are looking for someone with farming experience and background that is willing to work as an assistant farm manager and grow into a farm manager position.
We are looking for someone who has possibly already graduated with, or currently in school to graduate with a degree in agribusiness or related science fields.
JOB DESCRIPTION: Your job will be assisting our current farm manager in running the agriculture aspect of our farm as well as the agritourism side of our business. The agritourism side of the business will involve managing staff of all ages and levels of experience from high school kids to seniors working in different departments. Also dealing with customers during the spring and fall seasons.
Farm Hand Preferred job skills & description:
Knowledge of Tractors, Irrigation, Farm Equipment are preferred.
Basic mechanic skills (routine engine maintenance) are a plus!
Ability to do manual labor / work outdoors
Grounds maintenance and assist with construction projects.
Hardworking
Flexible Schedule
Good Communication Skills
Customer service during open seasons
Supervise seasonal activities (tractor driver, corn maze team, paintball, etc…)
Farm Manager job skills & description:
Farm mechanic skills
Operate farm equipment
Familiar with irrigation
Reliable and trustworthy
Able to work independently and able to direct the work of others.
Strong customer service skills
Flexible schedule
Welding & fabrication skills are a plus
Manage or assist with construction projects
Opportunity for growth in the company
For more info, and to apply, visit link below:
https://www.washingtonfarms.net/join-our-team/farm-manager-application/
Email
Email Address Hidden
Posted In
~ All Cool Jobs, ~ Farm and Ranch Jobs, ~ Hospitality Jobs, Agritourism Jobs, Customer Service Jobs, Entry Level Jobs, Internship / Apprentice Jobs, Outdoor Jobs
Want cool jobs delivered to your inbox every Friday?